A few days ago, a gargoyle began to perch above the office copier. Just as Punxsutawney Phil lets us know if winter will be shorter or longer, the arrival of the gargoyle means one of two things: it's either Friday the 13th or it's the Halloween season!
We also know that Halloween's around the corner because Sean Blanck, one of our BIM designers, tackles the holiday with aplomb. A craftsman and fan of all things horror, Sean and his family create massive sets at their home with the intention of terrorizing and entertaining their neighbors. This year, Sean's fashioned a Victorian hearse, a coffin, and a witch's den out of cardboard, glue, and paint. His yard will transform into the scene of a crash, and his front porch will become a witch's den complete with cauldron and potion shelves. As expected, visitors will be greeted by a witch tending to the hearth.
Sean will be particularly busy this week. Not only is he prepping for Halloween, he is also leading his team, Cheyenne's Warriors, in the JDRF walk on Sunday. The walk raises awareness of Type 1 diabetes and the team will walk together in support of his daughter Cheyenne who has the disease. Come join us at the walk and meet Sean in person!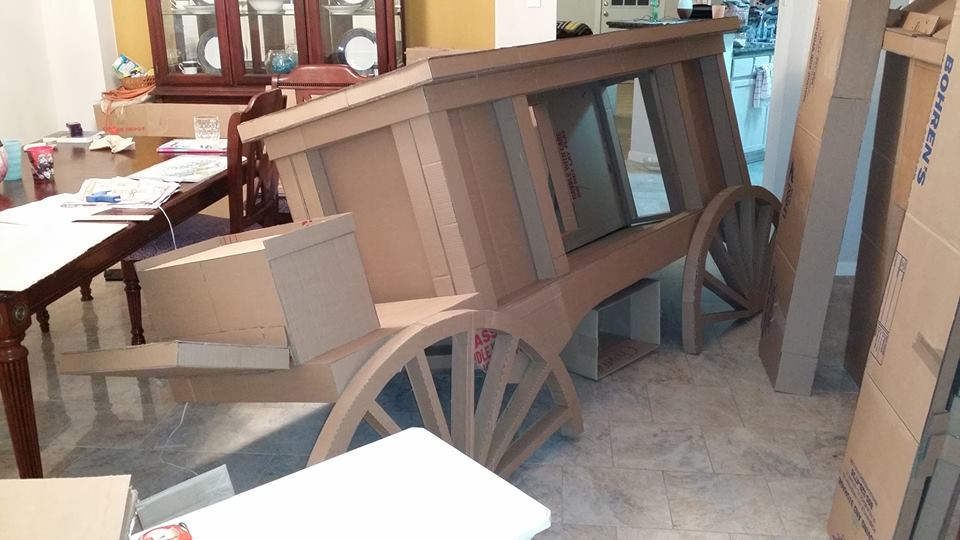 An early build of this year's crashed funeral carriage.